Have you ever thought about going on a cruise? Maybe to enjoy some special date (birthday, wedding and honey moon, graduation) or just an old dream that you'd like to fulfill, well if you have thought about it, now it's the moment to learn a little about the largest and the most important cruises in the world.
There are many cruise lines, but only three of them manage the first positions of the top, and we are talking about the Royal Caribbean International, the Cunard and the Norwegian Cruise Line.
Oasis & Allure of the Seas: These twin ships belong to Royal Caribbean International, and they hold the honor of being the largest passenger ships in the world. They were built in Turku, Finland by STX Europe for its shipyards. The Oasis of the Seas did its maiden voyage in December, 2009, while its twin went in the service a year later.
Both ships are 361.8 meters long, a maximum width of 60.5 meters and a draft of 9.3 m. These huge ships are powered by diesel with eight engines that allow them to reach a maximum speed of 22.6 knots (41.8 km/h).
Each ship has 2.706 cabins and can accommodate 6.296 passengers. Among other facilities, they have five pools, an amphitheater, climbing walls, a mini-golf court, casinos and nightclubs.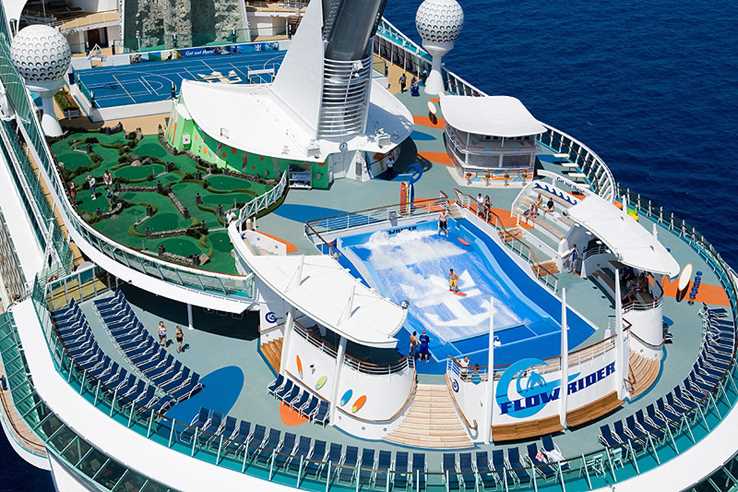 Freedom, Liberty and Independence of the Seas: These three ships belong to the fleet of Royal Caribbean International, Freedom is active since 2006, Liberty since May 2007 and Independence of the seas since May 2008.
Each ship of these triplets has a length of 338.9 meters and a draft of 8.5, sleeve Freedom of the Seas and Liberty of the Seas is 56.3 meters, while the Independence of the Seas is 55.9m. Its propulsion system consists of six Wärtsilä 46 diesel engines V12 12.6 MW, ABB Azipod units three and four bow thrusters. Its cruising speed is 21.6 knots (40 km/h).
They can accommodate 4.375 passengers in 1.817 cabins distributed over 18 decks. The leisure offer to passengers is a solarium, a surf simulator, a boxing ring, mini-golf, an ice rink, a casino and a theater.
RMS Queen Mary 2: 700 million euros was the building's budget for the most expensive and largest ocean liner ever built since 1969. This giant ship entered service in January 2004 as the flagship of Cunard Line. It currently covers the transatlantic crossing between Southampton and New York.
The ship has a length of 345 meters, a sleeve of 41 meters and a draft of 10.1. It can go up to a top speed of 30 knots (55.5 km/h) and it can accommodate up to 3.090 passengers and a crew of 1.238 people. It features spacious interiors and a wide range of passenger facilities such as restaurants, casino, 3D cinema, planetarium and a spa.
Many kinds of restaurants, casino, 3D cinema, planetarium and spa are some facilities that these beautiful paradise offers for its visitors.
Norwegian Epic: This amazing ship was built in the shipyard Chantiers de l' Atlantique in Saint -Nazaire by STX France. Its first service was done in 2010, through Caribbean and European routes.
Norwegian Epic has a length of 329.4 meters, a maximum width of 40.64 meters and a draft of 8.6 meters, with 19 decks it can carry up to 5.183 passengers. Its propulsion system combines six diesel-electric engines Caterpillar six Wärtsilä thrusters that allow the boat to reach a maximum speed of 20.2 knots (37.4 km/h). Plus 2,114 cabins in different categories, a giant Theatre and an auditorium with a capacity for 681 people.
Norwegian Breakaway: It is the first of two cruise ships that make up the Project Breakaway built for Norwegian Cruise Line. Its first voyage was in April 2013 and operates on several routes between Bermuda, southern Caribbean, the Bahamas and Florida. It also is the largest cruise port which is based in New York.
With a length of 324 meters, a sleeve of 39.7 meters and a draft of 8.3, it can accommodate 4.028 passengers at double occupancy is 4.028 , while its crew slashing 1.505 people. Its maximum speed is 21 knots (38.8 km/h) using diesel-electric propulsion.
Now with this short list, you know a little about the most important cruises around the world, so tell us which of them will you like to get on?
"The sea, once it casts its spell, holds one in its net of wonder forever"
Jacques Yves Cousteau
---